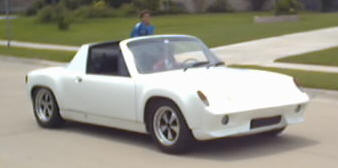 The first thing to consider is the bodywork for your 916. The first thing to add is the fender flares. There are two ways to do this; either steel or fiberglass. The most authentic way is to add steel fender flares. Steel flares were at one time very hard to find and very expensive; however, now they are readily available and relatively cheap in price. These flares will fit up to an 8" factory alloy wheel without modification, even though the original 916s used 7" wheels. Fiberglass flares are more economical. In addition you will need to buy matching rocker panels, which are available only in fiberglass.
The most common 916 parts are the front and rear bumpers. These are available only in fiberglass, as were the original 916 bumpers. Be sure to look for 916 bumpers that were designed to match up to flared fenders; otherwise, you will have to modify the bumpers to meet up with your flared fenders.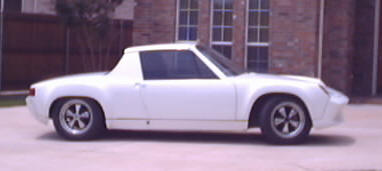 The original 916 had a permanently mounted steel roof. Since these are not available, the best solution is to make your 914 roof look like that of an original 916. This is done by sanding the black textured 914 roof smooth and painting it to match the color of your car. This can be a labor intensive endeavour, but it is well worth it since you are already taking the time to perform the other body modifications.
The interior of an original 916 was a cross between that of a 914 and 911 of its time. A 180 mph speedometer was installed, as well as, oil pressure and temperature gauges. The gas gauge was moved to the center of the console.
The front brakes of a 916 were 911S calipers with vented discs. Be sure to upgrade to a 19mm master cylinder and steel-braded brake lines. The front struts should be upgraded to 911S, SC, or Carrera. The rear brakes should be upgraded to either 914-6 rear brake calipers (very rare) or 911 rear vented-discs. The original 916 used Bilstein sport shocks and 180-lb rear springs.
The original 916 came with a 2.4 liter mechanically injected 911 engine. This is often where 916 conversions stray from originality. Today, it is common to put in 3.0 and 3.2 liter 911 engines and utilize modern electronic fuel injection. These larger engines are often much more expensive, but are vastly more reliable than their predecessors, and of course, more powerful. To mount your new engine, you will need a new motor mount and sheet metal. The most popular and cost effective kits are available from Richard Johnson.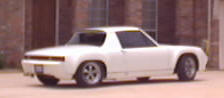 The original 916 used a 915-type transmission that was converted to work in the mid-engined 914 configuration. This model transmission was called a "916" and is almost as hard to find as a real 916 itself. There are some kits available for converting a 915 transmission to work in a 914. Another option is to mate the tail housing of a 914 transmission with a 901 transmission from an early model 911 and re-arrange the the internal gears. Don't forget to add a tall H gear for 5th. These tricks can be performed by Wes Hildreth of H & H Automotive in Plano, TX.
Since the original 916 used a steel roof which was welded onto the body to improve rigidness, it is advised to strengthen your 35 year-old 914 chassis before adding the new engine. GT Chassis, longitudinal, and trailing arm strengthening kits are recommended to accommodate the extra horsepower.